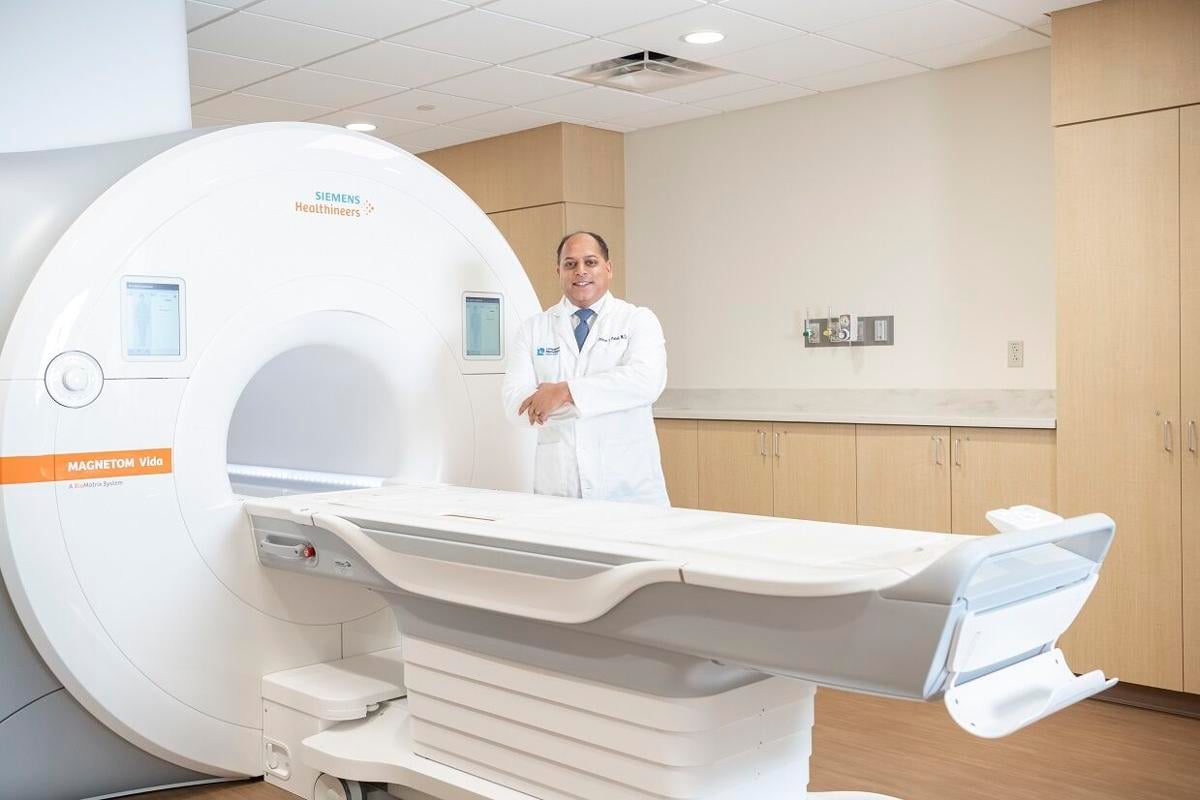 Dr. Dhiren Patel with the 3T MRI Scanner
The new 3.0 Tesla (3T) machine uses an advanced scanner to create higher resolution images than the standard 1.5 Tesla (1.5T) scanner.
"By improving magnetic strength, we can improve the imaging resolution and decrease the scan time for select scan types," explains MRI Group radiologist Dr. Dhiren Patel, who is President of Lancaster Radiology Associates (LRA) and Section Chief of Neuroradiology for Penn Medicine Lancaster General Health. "That's advantageous for many reasons, from diagnosis to patient satisfaction."
Like many of the 1.5T MRI machines, the 3T scanner features a wide-bore opening for improved patient comfort.
Patel says he expects the 3T scanner to be particularly appropriate for brain, prostate, nerve roots in the spine, small bone structures, and perfusion imaging (how blood passes through tissue). "3T is ideal for small, detailed structures in the body as well as deep areas within the body," he explains.
While the 3T scanner is invaluable in certain situations, it will not replace the 1.5 machine, which remains the standard and is the most used MRI equipment. "The 1.5 is the workhorse and it produces excellent images," Patel says. "It actually is better for some scans, such as breast and cardiac imaging."
The MRI Group radiologists, who are highly specialized medical doctors, work with referring providers to determine which type of imaging should be used.
"We've had a longstanding collaboration with health-care providers in this area," Patel says. "We've built a lot of trust with our referring physicians." Cooperation between referring doctors and MRI Group radiologists enables patients to receive the most appropriate MRI scan type.
"We are an affordable MRI provider already offering a wide array of subspecialized imaging," Patel states. "The addition of this piece of equipment just increases the cutting-edge imaging we are able to do."
"We are here, 24-7, 365 days a year and our outpatient offices offer evening and weekend appointments," says Patel. "Our radiologists respond quickly and produce timely reports. We cherish being part of the health-care team that cares for patients within our community."